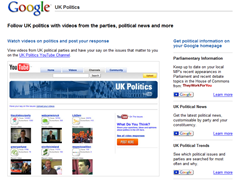 Completely unrelated to the Google UK-hosted barcampukgovweb, I'm sure, but Google have launched a dedicated UK politics site, with lots of UK politics related widgets for your iGoogle page, and a YouTube channel. One of the widgets available is based on TheyWorkForYou, MySociety's service to keep you up to date with what your MP is up to. Tom Steinberg mentions it on the MySociety blog:
There's no doubt that this sort of modular re-purposing of our information is going to happen a lot more in the future, and it's great to start out with the best of possible partners.
Good work all round.