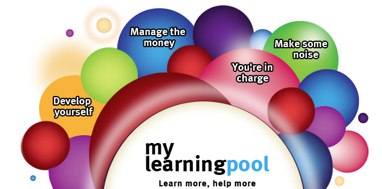 Today we are delighted to launch our newest product – My Learning Pool – which is one of the most exciting things we have ever done!
My Learning Pool is a suite of online learning resources which can be bought and used by anybody.
Here's a slidedeck that explains things a bit more – if you can't see it, here's a PDF version (opens in new window).
Whether you are some who is about to have a change in career, or a volunteer with a local community group, or the person in charge of an organisation – My Learning Pool provides all the training you need, when you need it, where you need it.
What's more, all this lovely learning is available at a price that is jaw-droppingly good value – exactly what the civic sector, for example, needs right now.
No more giving up a whole day to travel to attend a training session, or spending hundreds of pounds getting the basic knowledge you need to be able to contribute to your full potential.
There are over 20 courses available in My Learning Pool at launch, and we will be adding to them all the time. They cover vital topics for individuals, such as:
using social media
finding a new job
presentation skills
personal health and safety
For those looking for a cost effective solution to providing training for your organisation, My Learning Pool also fits the bill, with modules on subjects like:
procurement
customer service
technology and change
managing stress

data protection
So if your organisation needs to get all its volunteers trained in say customer service, or heath and safety, My Learning Pool can ensure you do so in a cost effective manner.
So, how much does My Learning Pool cost? For a year's access to all the courses, the price is a mere £25 per person.
Yup. Twenty-five quid.
As we add more courses through the year, you get those as part of your subscription, too.
You can buy it for yourself right now, by visiting the web site and signing up with your credit card.
If you want to bulk buy for your organisation, there are discounts available – check them out.
For anyone looking to brush up some of their skills, or for organisations that need the peace of mind that their people are getting the vital training they need, My Learning Pool fits the bill.
For more information, email hello@mylearningpool.com or follow us on Twitter @mylearningpool.