One of the great arguments in favour of employing social web tools is the fact that they are pretty quick, and usually cheap, to put together. However, that's not taking into account the other costs, one of which is managing the community created by such sites.
This entails a number of things: welcoming new people, seeding some discussions, encouraging people to get involved. At the bare minimum it should consist of moderating content, getting rid of the rude, the crude and the jibberish. You simply have to allow for time to do this. Otherwise you end up with problems like those that Jamie Oliver, everyone's favourite fat-tongued foodie, seems to be having.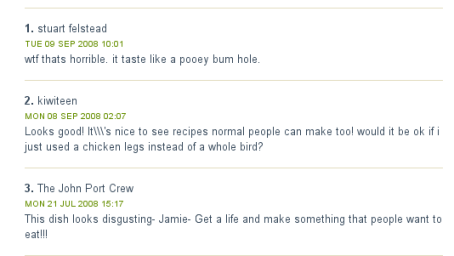 Does this sort of thing actually present anyone in a good light?!