Light blogging recently, I've been gadding about talking at a load of events – which is fun and rewarding in its own way, but doesn't really help with getting any work done, nor with writing here.
Last Wednesday I was at the LGComms seminar on digital communications, and had the opening slot explaining why all this stuff matters. I was on slightly shaky ground as I don't really know all that much about digital comms, just the social bit. I've no idea how to run a proper corporate website, for example. Anyway.
My slides were the usual concoction, and they're on Slideshare if you want them. My general message was that while the internet is undoubtedly important for communications, it's a mistake to put all of this stuff in a box marked comms and assume it doesn't affect or benefit other parts of the organisation and the way they work.
One slide I included was pretty new, and it featured a pretty crappy graph I threw together in Powerpoint: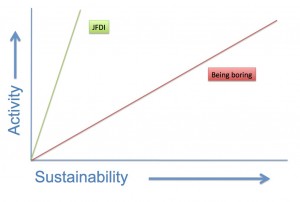 Click it for a bigger version. The point here is that by taking a JFDI approach – to any innovative behaviour, not just social media use – you get a lot done quickly. The trouble is that it isn't terribly sustainable, because it is often the work of one or two enlightened individuals and it isn't terribly well embedded in corporate process, systems or structures.
The alternative is to be boring, and go down the route of getting the strategy and procedure sorted early, and developing activity in line with that. This is a lot more sustainable, as everyone knows what they are doing and what they are responsible for. There is a problem though, and that is that being boring is slower than JFDIing – your innovators might get fed up and leave, and your organisation might be perceived as doing nothing, when in fact it's just moving rather slowly.
My take is this: it isn't an either/or choice – do both. Just get on with it, choosing some small projects to prototype and feed the findings from that activity into the longer term process and system building approach. Keep the innovators happy by giving them some space to experiment, whilst building the foundations that will help the rest of the organisation understand and feel comfortable with.
Don't let strategy and process get in the way of doing good stuff. At the same time, don't JFDI and find yourself exposed.